PPAI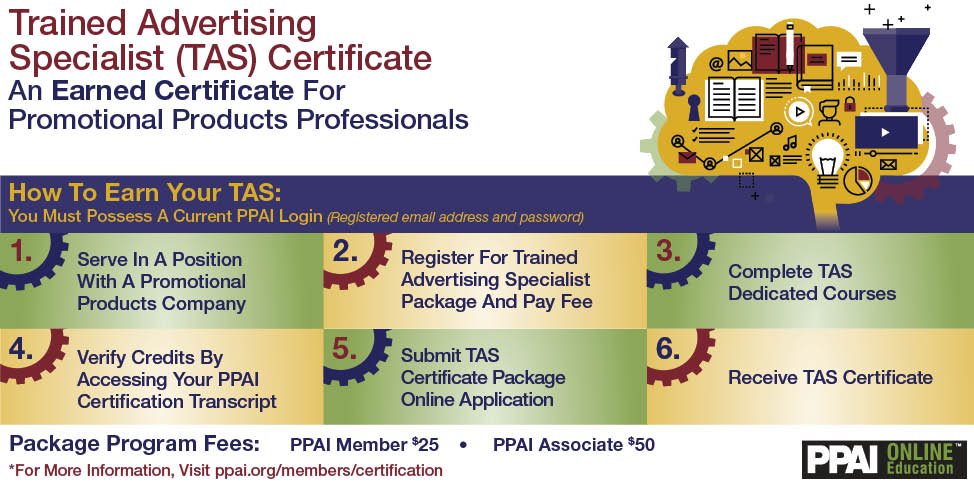 New To The Promotional Products Industry Certificate Programs
The Trained Advertising Specialist (TAS) Certificate Program is a PPAI Professional Development initiative aimed at providing promotional products professionals, who are new to the industry, a source for answers and knowledge about the industry. The Trained Advertising Specialist (TAS) Certificate program is an earned certificate, not a certification but is a prerequisite for the CAS. There are no recertification requirements for the TAS.

For additional content beyond the TAS certificate please select our New To The Industry Electives sessions.
Trained Advertising Specialist Courses
Contains 6 Product(s)

Education program targeted towards promotional products professionals with less than three years of industry experience. This program will provide an overview of the promotional products industry and will provide a foundation for people working within the industry. Participants will earn the Trained Advertising Specialist (TAS) certificate once the 5 sessions have been completed. The TAS Certificate is required prior to starting the Certified Advertising Specialist (CAS) Certification program.

Register

PPAI Associate - $50
PPAI Member - $25
Young Professionals
If you are a young professional in the promo industry, please check out our SPARK program for content that is designed for and by young professionals and keep the conversation going on the SPARK Promo Connect discussion board. SPARK's targeted education, community service projects and networking opportunities help young professionals in the promotional products industry further their careers while engaging with, and learning from their peers.
| Access Date | Quiz Result | Score | Actions |
| --- | --- | --- | --- |